Here's round two on the Machete from Ride. Not a deck I'm super sold on, but the main reason I rode it again was just to try out the Flux bindings. So check out the match up of super soft bindings with a deck I'd consider more oriented towards jibbing.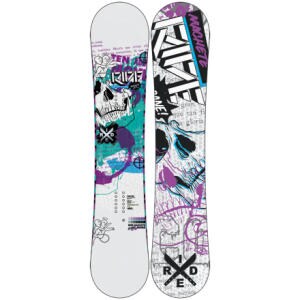 Board: Ride Machete
Size: 155
Camber Option: Lowrize rocker which is a minimal rocker in the tips
Bindings: Flux Titan RK
Stance: 22.5
Angles: 18 negative 15
Boots: K2 T1 DB size 10
My Weight: 165
Resort: Loveland
Conditions: Sunny Bluebird with a crisp coolness in the air
Preconceived Notions: I've ridden the Machete before and knew what to expect I was riding it more to see how the bindings actually worked.
Flex: Somewhere at the end of the stiffer all mountain freestyle spectrum, think more Never Summer SlR less DH 2.
Stability: Super solid between the feet and in the tips.
Ollies/Pop: Not as poppy as the DH2 but still had a decent amount to make me happy.
Butterability: Torsionally this board is a little stiff in my opinion to get as pressy as I'd have liked when buttering around.
Cruising: You can rail a turn on this board like no other and not have to worry about it washing out or folding.
Jibbing: Once again back to the flex pattern of this deck I don't find it super conducive to jibbing but it's still highly doable.
Rider in Mind: Jump kid that wants a slightly stiffer deck.
Personal Thoughts: Definitely not the deck for me it's flex pattern is just not something I dig that much.
What They Say: The Machete features Ride's new LowRize rocker with LowRize specific sidecut to lose the hook without sacrificing pop. Cutting through the competition, this go anywhere freestyle deck combines our new techs with proven Fusion 4000 Base™, 85A Slimewalls® and Cleave Edge™ for a smooth twin built to last.
Binding Compatibility: Didn't take extra long to get this binding on the deck.
Binding Adjustability: Tons of easy quick adjusts on this binding that allowed it to be a bit more dialed in than others I've tested at a demo.
Straps: I will never be a fan of the Flux Toe Cap it's so fucking huge. The heel did it's job but wasn't anything to write home about.
Highbacks: These are the main reason I tested these out I wanted to see how the softer highbacks allowed for some super tweaks. Lets just say I haven't boned a Stalefish out on a hip like that since I rode lowbacks in the 90's.
Binding Flex: Super flexy because of the materials used in it.
Ratchets: Did their job but weren't anything spectacular.
Rider in Mind: Jib kid or guy that likes to tweak shit out.
Personal Thoughts: Eh binding was a bit too soft for me to ever consider it a daily driver, hell even in park it might be too soft for me.
What They Say:
The Titan RK pays homage to the roots of this thing we call snowboarding.
Not to be confused with the Titan, the skate-influenced RK makes sure it has an identity of its own by learning new tricks and setting the trends.
The most notable feature is the urethane highback, it's there for maximum tweakage.
Flex it! Twist it! You won't believe your eyes.