For all intents and purposes snowboarding doesn't have an original thought left in it. We've done a full 360 or in some cases a 720 and spun around enough that we're just rehashing or abusing old ideas. It's not our fault we're just unimaginative and no matter how much marketing spin we put on something it's just giving your old girlfriend a new haircut. Sure it might look good for a few minutes then you realize it's still your old girlfriend with a generic face lift. This analogy describes the current crop of companies coming in to snowboarding right now. How many times can we hear the same weak sales pitches?
Think about it how many times have you heard, "by riders, for riders" as the marketing sales pitch? Cool you ride, I ride, and together we ride. It's not anything new and has been a ploy since the first generation of shred sledders started marketing these stunt sticks we call snowboards. It's almost as old as snowboarding itself don't you think at one point Jake Burton used this when he was still hand making all his decks in Vermont? Yeah it's done to death we get it lets all snowboard while holding hands and singing kumbaya.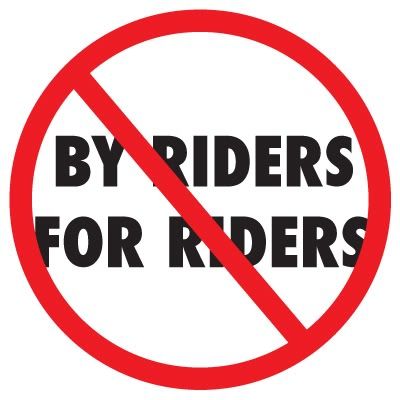 Oh but your version of "by riders, for riders" is different you say? How because you attack the established or big brands calling them suits and sell outs? Yes we've heard that argument too, news flash it's not selling out so much as cashing in. Those big companies you hate and snub your nose at do more for snowboarding than your little brand and because of that they earn some respect. Also no matter what on some level every one of those companies has someone that rides. So technically they're a "by riders for riders" company too. Seriously find a company in snowboarding that doesn't have someone who works there that rides, I dare you! Hell even Volcom that is notorious for their Youth Against Establishment mantra is part of the establishment, they just sold themselves off to PPR. Hell they've been traded on the NYSE for a while, not exactly anti-establishment. Then again how is anyone that's in business to make money anti-establishment? Probably should just start a snowboard not-for-profit and give your boards away.
Now we all know snowboarding is fun so why do companies have to "put the fun back in snowboarding"? Where did it go? Did it suddenly become un-fun? I highly doubt that if it wasn't fun we would do it. What kind of fun are you bringing that we don't already have? Are you giving us hookers and blow along with some happy pills with your product or is this the only fine selling point you could come up with? Snowboarding's fun just like masterbation!
If you're going to start a brand why would you just rehash everything that I've mentioned above? Wouldn't you try to put your spin on something or instead of dumping tons of money into horrible marketing work on the tech in your boards? Oh wait that's right most upstarts without a good financial backing are just OEM cookie cutter decks.
What don't believe me? Here's an slew of companies coming out of the Monson factory in SoCal. Crispy Whips, Caked, Prospect Snowboards, Humanity Snowboards, Neiva Snowboards, Global Mind Elevation Snowboards, Lucky Snowboards, Legend Snowboards, Four 20 Boards, Origin Snow, Organic Snowboards, SP3i, Publik Snowboards, and there's probably even more that just haven't been brought to my attention. It seems this is the factory of choice for upstarts and nothing wrong with that but how many companies can we have that just pick X shape, Y flex, and Z camber then slap their graphic on it?
People aren't blind anymore they know what's going on. If you're going to run a company you seriously need to bring something to the table beyond played out pitches and cookie cutter technology, otherwise it's just a different graphic on the same old shit.