I first met the Smokin guys in Vegas last year and let me say it was interesting, the owner Jay had definitely partied like a rockstar the night before. But anyways they were down to explain some stuff to me about their boards. When the on snow demo came around I got to make runs with Jay and we got probably the sickest pow run of the day together. Their boards are super quality and fun to ride the MIP is a sick park stick that I put to the likes of the Capita Stairmaster and the Atomic Hatchet. So when I saw this chance I figured I'd share with my readers.

SMOKIN SNOWBOARDS HANDS SHOP KIDS THE REMOTE WITH THE "M.I.PRO!?" COMPLETE WITH MAGNE TRACTION &
100% RECYCLED P-TEX SIDEWALLS.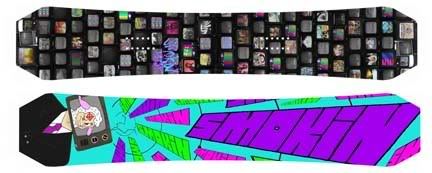 Lake Tahoe, CA: The Smokin Snowboards crew is back in Tahoe to a bunch of fresh snow and we want to thank everyone for coming by the booth at SIA. We got such a great response to our new line of Magne-Traction Boards, we are proud to offer a limited edition custom Minor In Possession with photos submitted by kids that work in various board shops. The M.I.P. is new for 2008 and it has a unique blunt tip and tail along with the flex that is perfect for jibbing your favorite rail park or stomping jumps with the Magne-Traction Edges. Anyone who got to witness the M.I.P. knows it is 100 channels of twisted imagery straight out of the 80's kid generation. We at Smokin are fully aware that shop kids spend a lot of time indoors, left to stare into space pondering radtastically senseless, crude, and obscene images during their hours of smelly rental boots and arguments in snow snobbery. We want all of you inspired (or just narcissistic) shop kids to submit your own photos of whatever you fancy to put on our limited edition shred sleds. The first 100 submitted photos will be used for our special M.I.PRO!? This board will only be offered to those kids that work tirelessly to sell gapers their gear and wax boards day in and out tirelessly in the pursuit of shred all around the country. Only the photos submitted by those whom work in a board shop will be used and they will NOT BE CENSORED. Whatever you send us gets put on the board first come first served, you can send us your face, your shop, or your girlfriends cash and prizes. But make sure its an original picture and not a copyrighted image because you are liable for distribution and rights of the image. Please note that only the first 100 images will be put on the board and there is no guarantee that your photo will be used. Please submit your photo (in hi-res jpeg or 300 dpi .psd format) and order inquiry to [email protected]This e-mail address is being protected from spambots. You need JavaScript enabled to view it , be sure to put what shop you work at and the contact info for your shop. SO ASK YOURSELF; M.I.PRO!? then send us your mug and shred your face off all next winter!
Here's what I had to say about the MIP with Contrabands
155 Smoking MIP (minor in possession) with Ride Contrabands (08/09)Stance 22.5 with 18 negative 15 goofy

Boots: Vans Fargo Boas size 10

Conditions: Overcast, windy, and poop weiner

One Word: Poppy

The board is absolutely sick, super light, and poppy. While being stable at speeds with minimal chatter. The bindings however suck donkey balls. The board was stable off small drops, great for popping, easy to jib, has a great shape for doing tweaked out grabs. The bindings took forever to set up and ended up having 3 people work on it before they got it done for me. The toe strap is a weak ass design at best, it grips right over the big toe and the side of the big toe. The heel strap, which has too put way more torque on it to feel locked in, actuates it and even then I was still feeling play. The damn thing crippled my feet so bad its still hurting 5 days later. There was no cush to that heel strap and it just tweaked my foot bad. This binding needs serious work. The toe clip thing is cheap ass plastic and doesn't do shit to hold you in tightly.