Music and snowboarding go hand in hand now that everyone has an Ipod or mp3 player. The thing is though some people just want to be inconspicuious with the fact they're listening to music or don't like ear buds and bulky head phones. This is the option for them.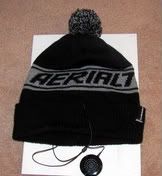 Product: Aerial7 Sound Disk Mayrhofen Beanie
Purpose: To meld head warmth with sweet jams.
Fit: It's a longer fitting beanie that provides a bit of slouch up top. But widthwise it has elastic so it will stretch.
Features: 35mm drivers for your audio delivering pleasure. Detachable cable that also has a microphone and the pause, fast forward, and rewind button.
Conditions: Heavy wet Northwest style snow, puking light fluffy snow, powder days, bluebird cold days, and typical winter conditions for Colorado.
Pros: It's not so bulky that you feel the headphones the second you put it on. It also doesn't even look like it has headphones in it. The audio quality is great for hearing highs and lows. Most of the time when you'd put it on the speakers would slide right into place on your ear.
Cons: Sometimes the headphones would slide around into a position you'd have to play with them. Also if the goggle strap is positioned over them it can push hard right on your ear causing some discomfort down the road.
Durability: I haven't had to wash the hat yet so not too sure on that. But as far as the audio components these have remained functioning 100% and working real well.
Personal Thoughts: It's nice to rock a beanie that doesn't make you look like there's tumors growing out of your head when you're trying to rock out. The quality of sound is far better than other audio beanies I've encountered over the years.
What They Say: From the streets to the mountains, the AERIAL7 Sound Disk Beanie merges technology and fashion. The innovative wearing style is so comfortable you'll be ready to cruise any terrain. The ultra slim sound disk delivers crisp, clear sound.
Support your local snowboard shop buy locally. Find a shop here.