What's more deadly a Weapon of Mass Destruction or a World Wide Weapon? I'd have to say something that can be worldly definitely trumps one of mass destruction. This deck has been a part of the K2 lineup for many years and known around the jib scene. So one faithful day in the late spring this is what went down while riding it.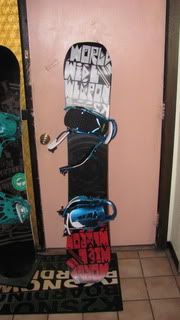 Board: K2 World Wide Weapon (WWW)
Size: 154
Camber Option: Jib Rocker. 20% rockered and 80% flat.
Bindings: K2 The Company
Stance: 22.5
Angles: 18 Negative 15 Goofy
Boots: K2 T1 DB Size 10
My Weight: 160
Resort: Arapahoe Basin
Conditions: Overcast, windy, slushy snow, and a slight amount of snow/rain falling from the skies on and off.
Preconceived Notions: I highly doubt anything has changed since the last time I rode one of these which was probably like 3 or 4 years ago.
Flex: It's a soft jib twin with rocker you do the math on this. This board is just meant to flex every which way and that's that!
Stability: Hope you like feeling every vibration on the snow because with this board dampening and stability are gone. Don't expect to be charging chunder piles and whump bumps with ease you'll feel it all.
Ollies/Pop: Enough to get on a rail or pop a small hit/jump but that's not what this board was designed for.
Butterability: Now we're talking press the snow and spin around in circles on this stunt stick. The super soft flex added to rocker just makes it as playful as can be.
Cruising: Surprisingly for such a soft jibstick the sidecut lets you rail turns with ease. The softer flex allows for a smooth initiation. The only problem is that with nothing to the guts of this board if you start hitting washed out terrain or mach 10 speeds the board can buckle.
Jibbing: This is what the board was designed for, bonus points if you know the story of the WWW and who inspired its creation. The blunted tip and tail give it a nice wide surface area for locking into presses and the softer flex just lets you bend it so well. The best part of this board is that it's just meant to be destroyed on jibs so tapping, bonking, slapping, sliding, pressing, and gypsy dancing are all part of its daily rituals.
Rider in Mind: The jib kid on a budget that wants a deck they can beat the living piss out of and it'll come back for more.
Personal Thoughts: Really other than the more blunted shape nothings changed since I last rode this deck which is fine. This board reminds me of riding Type A's back in the 90's that were just a minimal layer of glass, ptex, and wood. The one thing to note is that you don't need to over exaggerate a press on this board because of the rocker and soft flex. The board is what it is and doesn't hide that fact.
What They Say: the Weapon's reputation with our team speaks for itself. K2's original twin tip jib deck is still the most fun you can have in the park. Jib Rocker maneuverability and ptex topsheet toughness set the stage for you to get as creative as you can get.
Support your local snowboard shop buy locally. Find a shop here.