With this board it just happened to have the skies open up and dump pow day after day. My mornings were spent on this board slithering around the mountain from one stash to the next. Face shot after face shot, soul slash after soul slash, this board just delivered me to the goods. Here's how it rode.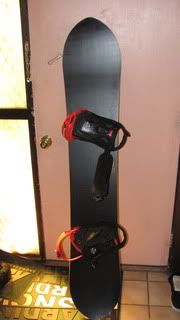 Board: Salomon Powder Snake
Size: 163
Camber Option: Pow Rocker
Bindings: Salomon Chiefs
Stance: 22.5
Angles: 18 Negative 15 Goofy
Boots: K2 T1 DB Size 10
My Weight: 160
Resort: Breckenridge
Conditions: Two spring powder days with it starting light and fluffy and turning into mashed potatoes by mid day.
Preconceived Notions: Sick Stick shape with Riot construction making for a more affordable quiver board.
Flex: Torsionally a little bit stiffer with a bit of play in the tips due to the rocker. Not a dead plank pow stick. *Production model I was told will be a hair stiffer*
Stability: Not insanely damp but enough to allow you to crush through some serious frozen chunder when you would encounter it.
Ollies/Pop: There's a fun little sweet spot in the tail that lets you pop up and mash pillow lines. Over all it's not meant to be a crazy poppy deck.
Butterability: Pow butters are a lot of fun on this thing especially if you're trying to do it while getting a face shot. On hard pack it's fun but the tip shape is a little catchy.
Cruising: Pow turns are obviously easy but on hardpack you could feel the equilizer sidecut grip and lock into carves. I found myself just laying trenches on groomers with ease. Turn initiation takes zero effort and rolls on edge.
Jibbing: I did one nose press on this thing at the end of the day when I was cutting through the park to go home. Honestly it's jib-able but I don't see why you would unless you're doing tree rides and blasting off the pow.
Rider in Mind: It's a pow stick for 400 bucks so it's a cheaper quiver board.
Personal Thoughts: I've always dug the Sick Stick which the shape is based off of, but that deck just never held up like a traditionally built deck. This board delivers in that aspect but is actually a bit stiffer in my opinion than the Sick Stick. Over all it's a fun ride for playing around in the pow and with the $400 price range it makes a pow deck a bit more accessible to the masses.
What They Say: There's nothing else in snowboarding like the Powder Snake. Our best selling park board—built for the backcountry. Popster core, Sintered base, and a Tapered Twin shape with Pow Rocker profile. Next time it gets deep, give your rail board a rest.
Support your local snowboard shop buy locally. Find a shop here.