The SL has been one of Never Summers longest and best selling models. Well with everyone watching Deeper and suddenly thinking they're the next Jeremy Jones they now offer everyone's favorite board in up hill ski mode capable form. Not afraid of taming the wild beasts of the backcountry we sent our resident off piste enthusiast out to test this boards capabilities around the great state of Colorado.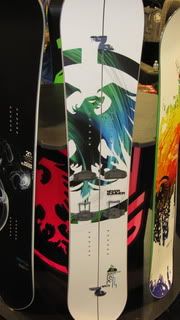 Board: Neversummer SL X Split
Size: 163 Wide
Camber Option: Neversummer Rocker Camber Profile.
Bindings: Spark Fuse, Blaze, and Burner bindings
Stance: 22″
Angles: +- 15
Boots: Ride Insano
My Weight: 240
Resort/Backcountry Area: Baker Backcountry, Berthoud Pass, Vail Pass, Rocky Mountain National Park.
Conditions: Mostly deep powder.
Preconceived Notions: Is this thing for the park or the backcountry?
Flex: I would call it just above medium stiffness. Not nearly as stiff the old Titan or the replacement, the Raptor. Softer and more forgiving than those boards. This board is also stiffer than the solid SL. More like the (Hmm) Heritage. This is actually a good for those wanting to throw a little freestyle in to their backcountry riding.
Stability: It's a Neversummer, always damp, always a crud buster, always stable.
Ollies/Pop: Good, I could load the tail when needed. I found the board to be plenty snappy for a splitboard. Very fun to smash pillows and jump off cliffs with.
Butterability: You can. If this is your thing in the backcountry, it does this sort of thing much easier than the Summit.
Cruising: Bombs just fine. This thing likes to be on edge though, so you have to concentrate a bit more to flat out straight line it.
Skinning: I am conflicted on this one. In powder, this thing was a climbing machine. The rocker makes breaking trail much easier. On hard pack is where I am conflicted. At times it was great, other times not so much. I have a few issues here though. I was using something else than Ascension skins for this board. For those who don't know. Black Diamond Ascension skins are the standard skin that comes with the full Voile Kit. They are well known for their durability and ability to climb. The skins I was using are from Climbing Skins Direct. A relatively new player to the climbing skin market. At times they seem to grip and climb great and at other times not so much. Especially in harder spring conditions.
My gut feeling is the skins do not grip quite as well as the Ascensions and it was not so much the camber profile of the board. I have not been able to test this theory. What I did find is that I engaged my ski crampons in a few spots where others did not have too. No problems with the ski crampons of course. I would also say if you don't have ski crampons, add them to your quiver, and carry them in the spring. You won't need them often, but you'll be glad you have them when you do. My problems could also just be that I am a tubby bitch. I'll let you decide.
Rider in Mind: The powder hound who wants to throw some freestyle into their backcountry riding.
Personal Thoughts: I've taken this board in a huge variety of terrain and it really handled everything with style. Steep 50-60 degree lines, to pillow smashing, to tight trees, to just plain meadow skipping. I know I can trust this board. Keep in mind this is a board that likes to turn. I find myself laying a turn down in spots where with a different board I'd probably just straight line it. It will hold a straight line just fine, but it takes a bit more will power on the riders part. In tight Colorado trees where turning on a dime is mandatory, this thing is a gift.
The rocker camber profile works nicely for backcountry riding. Rocker when you want it, camber when you need it.
What They Say: Featuring our NS Superlight blended wood core, the new SL Split will set the bar for high-performance backcountry freestyle splitboarding. Our most extensive carbon fiber configuration and dampening system give the SL Split unmatched high speed stability, response and power. With only a slight set back the SL is more centered for aggressive riding, doing hop turns and freestyle mobility. The shape, set back and reducing materials also reduce swing weight in the air. All this combined make for a splitboard with the ability to slay the most technical lines, wind scoured faces, pow and still have a lightweight set up for the most grueling tours.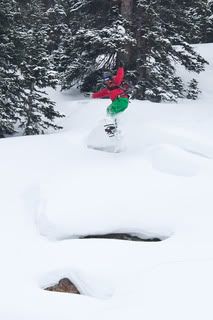 Support your local snowboard shop buy locally. Find a shop here.