20 years ago Tim and Tracey Canaday started a snowboard company based in the United States. Their goal was to build rock solid boards with quality craftsmanship. Today most companies that were around when they started are gone or have become shells of what they once were they continue trucking along as an independent manufacturer building boards in the U.S. The Proto CT is a culmination of 20 years of experience and progression.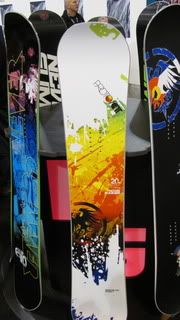 Board: Never Summer Proto CT
Size: 154
Camber Option: R.C. technology. Reverse Camber between the feet with camber out in the tips.
Bindings: K2 Formulas
Stance: 22.5
Angles: 18 negative 15 goofy
Boots: K2 T1 DB Size 10
My Weight: 165
Resort: Breckenridge
Conditions: Sunny bluebird, fresh corduroy, puking snow, about a foot of fresh pow, chunder, push mounds, chop, over cast skies, Brecks pristine park, and a whole gamut of conditions.
Preconceived Notions: I was emailed by Vince from Never Summer about this deck saying they created a blunted twin with a carbonium topsheet. It featured the SL construction with the Evo dampening. Basically a high end twin all mountain destroyer.
Flex: Comparable to the SL so past mid flexing twin and more towards slightly stiffer all mountain flex. There was a bit of torsional give between the bindings.
Stability: Never Summers are known for their dampness and this board didn't disappoint. I'm pretty sure I ran over an Elk and it felt like hitting a garden hose.
Ollies/Pop: Real good snap out of the tips. The blunted shape and longer effective edge changes the ollie point. This gives you better snap especially off jumps.
Butterability: Not the best stick for it due to being designed for more hard charging. But now with that flatter blunted tip it really lets you get up on it and spin around.
Cruising: The longer effective edge really lets you dig in and rail a turn. With that added grip it doesn't matter if you're doing short carves or long drawn out ones you'll be locked in perfectly fine.
Jibbing: The blunted flat spot is great for pressing even with the stiffer flex. Other than that it takes a bit more effort for other types of tricks on rails or boxes.
Rider in Mind: The guy that wants a true twin that's light weight and will charge anything put in front of him.
Personal Thoughts: The Carbonium topsheet reduces the overall weight in the board which for some people that complain they'll really dig that. The blunted shape and longer effective edge change the ride immensely and that's one of the biggest things to note. For those that want a slightly stiffer twin deck that's damp this would definitely be a great option for them.
What They Say: For the new 2011/12 Proto CT (Carbonium Twin), we've taken the powerful flex of the time tested SL, and blended it with the responsive dampening of the Evo to create the ultimate all mountain tru twin. This board has the versatility of Never Summers patented Rocker Camber Technology, our new Superlight wood core, graphite impregnated Sintered 5501 base and adds a whole new element into the proven Never Summer Carbonium Series of boards. Our new blunted, true twin shape cuts down material on tip and tail for a reduced, more balanced swing weight, while increasing effective edge for on snow stability. The Carbonium Proto CT is the future.
Support your local snowboard shop buy locally. Find a shop here.