Everyone wants a snowboard that's Lifelike and not dead that does nothing. New for this year from K2 is this board designed for the guy that goes everywhere and needs a quiver of one stunt stick. After a couple laps around A-basin here's how it stacked up.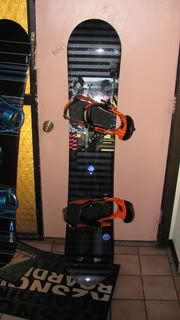 Board: K2 Lifelike
Size: 160 Wide
Camber Option: Flatline so you know the drill lay it flat and there won't be any rise to it.
Bindings: K2 Cinch CTX
Stance: 22.5
Angles: 18 Negative 15 Goofy
Boots: K2 T1 DB Size 10
My Weight: 160
Resort: Arapahoe Basin
Conditions: Early morning spring laps that consisted of some of the more firmer snow you'll see this time of the year. Mix that with high winds and bluebird skies.
Preconceived Notions: Was told this is basically a beefed up Raygun and should be solid for the whole mountain.
Flex: Little softer than the Protohype where it had more give between the feet and a tad bit more flex in the tips. Torsionally you noticed this give the most.
Stability: Another super stable ride that wasn't overly damp. Charging through chunder and over frozen moguls you could feel the definitions in the terrain. This gave it a bit of a lively feel and not so dead and damp.
Ollies/Pop: Good spring out of the tail for driving through carves or popping off rollers, side hits, and drops.
Butterability: That stiffer flex isn't conduscive to buttering unless it's of the high speed mach 10 variety.
Cruising: The sidecut rips and locks in perfectly for that smooth glide you want when bombing firm corduroy. Transitioning edge to edge there wasn't any problem and if you pushed the center flex of the board to cause it to arc more through a carve you could feel that it just wanted to pop out the other side of the carve.
Jibbing: Not exactly a deck I'd consider for jibbing hit a few features nothing major if you're down with 50-50's you'll probably like this.
Rider in Mind: The guy that's going to be lapping the mountain hitting drops, ripping groomers, and spending a minimal amount of time in the park.
Personal Thoughts: Just felt like too much board for me personally. If I was riding lines then I'd be down or if it was just a day spent launching cornices and rocks, otherwise it's not a deck I'm really in love with.
What They Say: The all New Lifelike takes on the snowboarding life with lightweight durability of Hybrilight Construction and Flatline neutral feel. The perfect deck for the rider that does it all in a single day on the mountain.
Support your local snowboard shop buy locally. Find a shop here.