Our affiliate writer is back yet again with another board he was able to review. This time he took a Bataleon with their TBT for a spin. So Whatever this is here's how he thought it rode on a cold wintery day at Winter Park.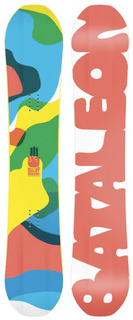 Board: Bataleon Whatever
Size: 153
Camber Option: TBT
Bindings: Rome 390 Boss
Stance: 22.5in Goofy
Angles: 12/-12
Boots: Ride Phytop LE 9
My Weight: 145
Resort: Winter Park
Conditions: Freezer and crusty
Preconceived Notions: Asked for an ET but he didn't have it. Said this was their quiver killer for 2012
Flex: Supposed to be even all throughout but it felt middle-park between the feet and softer outside.
Stability: All the stability I ask for from a park board. Felt great off jumps and I didn't have to worry about the
board not handling higher speeds. Snapped well and felt great in landings. TBT is fun to jump.
Butterability: Buttered… different. TBT is super good for this cause of that bowl shape in your tips, but you take a different approach. You don't have your contact points right there for you for fine control. It's set up and commit. Maybe more time on it I could get that fine control back.
Cruising: Really fun to just ride around the mountain. Not the most damp and you could feel what was under you, but for me it wasn't enough that it would ever bother me.
Jibbing: Super good here too. TBT is something to get used to for nose presses and 5-0's, but it slid well and popped out nice.
Rider in Mind: Riders like me. To me it was too soft for bigger or even average riders as a quiver killer, but for smaller riders that is definitely what it is. For an average rider it would make a killer soft park or jib board.
Personal Thoughts: I spent more time on this board than any others at the on snow. It was just so much fun to ride that I didn't want to give it back. It was one of those rare boards that popped enough for jumps but pressed like crazy and was just super easy to ride all around the mountain. One of my new favorites. Guys bigger than me will most likely find it too soft.
What They Say: Whatever the conditions, whatever the terrain, whatever your riding ability, it's all good. In fact it is pretty fuckin' awesome. Lightening edges, TBT enhanced power pop, lively flex. This board does it all and it does it all well. Whatever, whenever, wherever, this board will take it every which way, no worries.
Support your local snowboard shop buy locally. Find a shop here.