Like a Cruise Missle about to fly into its enemies this board just charged the open terrain. I can see why the old guys would love a deck like this that just goes fast and runs over anything in its path. After a day of destroying groomers at A basin here's what can be said about this shred sled.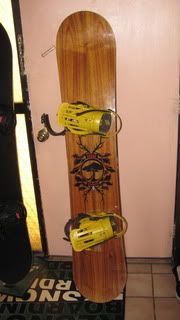 Board: Arbor Roundhouse CX
Size: 159
Camber Option: Traditional Camber
Bindings: Forum Republics
Stance: 22.5
Angles: 18 Negative 15 Goofy
Boots: K2 T1 DB Size 10
My Weight: 160
Resort: Arapahoe Basin
Conditions: Sunny warmer spring temps with firmer snow that was mildly pushed around.
Preconceived Notions: The cambered version of the Roundhouse RX it shouldn't be too much different.
Flex: Slightly softer nose stiffening up through to the tail. There was a bit of torsional give which let it lay into carves pretty well.
Stability: Super stable at speeds and through various snow conditions. This board was meant to haul ass and run over anything in its way. The nose did have a bit of chatter at speed but not enough to effect the ride.
Ollies/Pop: Nothing super special about popping off rollers or just ollieing off various things.
Butterability: Eh you could but I didn't bother playing around too much with buttering since this board is meant for hard charging.
Cruising: Turn initiation came easily to this deck and once on edge railing a turn wasn't an issue. The sidecut was deep enough to really leave a huge trench in your wake.
Jibbing: Yeah this board just honestly isn't meant for that so it didn't happen.
Rider in Mind: The guy that's railing turns, bombing some steeps, and not spending any time in the park who wants camber.
Personal Thoughts: Going fast on this board came naturally and leaving a huge trench behind me was fun. You could just get on this deck and take off and there wasn't anything to worry about as you were charging around the mountain.
What They Say: An advanced all-mountain bomber that's built to support larger feet, yet designed to provide the quickness of a narrower board; the Roundhouse provides versatility needed to slash the steeps, cruise the trees, lap the park, and punch through big pow turns.
Support your local snowboard shop buy locally. Find a shop here.